When running a store, a restaurant, a cinema or other commercial establishment, we don't want to limit ourselves to advertising behind the closed door. Our ambition is to get customers interested in the offer before they enter the facility. If we want to get the customer interested, we also don't want to do it with an ordinary board or a tripwire so we focus on a professional digital signage screen. Here, however, a problem arises because we know that we can't just put the LCD screen outside.
Fortunately, this situation doesn't ruin our plans of reaching the customer already in the street. In order to install an advertising screen outside, we need to protect it properly. Enclosures that protect electronic devices from external factors are the solution here.
What are LCD screen enclosures?
Most often they are special boxes made of durable materials, e.g. steel or tempered glass, equipped with air-conditioning systems controlled by electronics.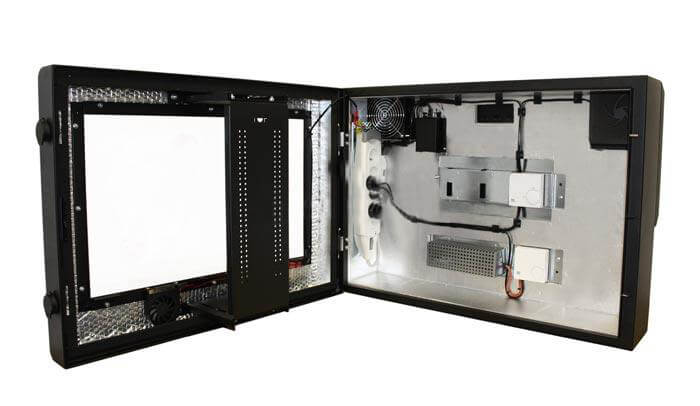 The enclosure is designed to protect the screen from:
1. water and low and high temperature – the weakest link in the construction of LCD screens is its control electronics. Densely laid paths on printed circuit boards are very sensitive to moisture. When temperature changes (from a warm day to a cool night), the water condenses. It's obvious that water and electricity are a bad combination; such a combination most often leads to short circuits of electronic components. In enclosures, most often the screens of very high brightness (1000-2500 cd) are installed. Obtaining such a parameter is associated with giving off a large amount of heat from the matrix. We can imagine the temperature inside the enclosure if we close a strong source of heat in such a small space (add to this the outside temperature on a hot day). Electronics, power supply and matrix are very sensitive to high temperatures and without proper cooling the enclosure becomes an oven. Increasing the temperature to a critical level reduces the durability of the entire device or completely destroys it. Enclosures equipped with air conditioning maintain a constant level of humidity and temperature (from -30 to +55°C), which allows a digital signage screen to operate efficiently outside the building.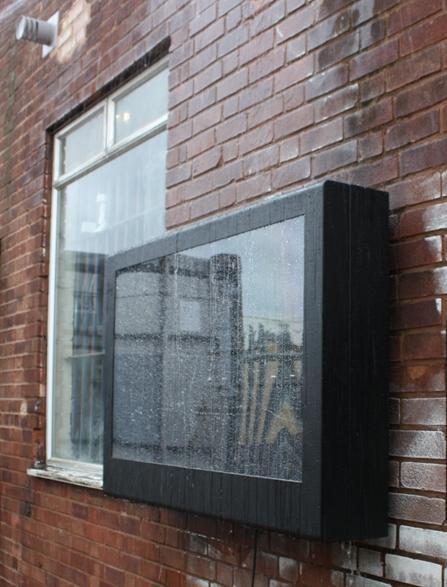 2. dust and insects. Unfortunately, dust and insects naturally fill any free space. Dust – spontaneously, insects – because they seek shelter and warmth. These factors can affect the electronics of the screen as much as moisture or lack of air conditioning. This is because gathering dust and dead insects create a coating on the electronics that effectively interferes with heat dissipation, hence leads to overheating the equipment and influences its durability. Enclosures with special seals minimize the risk of dust and insects entering the screen.
3. vandals and theft. It's interesting that an exposed screen attracts the attention of certain individuals. It automatically becomes the target for either discharging frustration or benefiting from theft. Digital signage screens in enclosures ensure that your property is in perfect condition. The metal construction and tempered glass protect against vandalism and prevent from theft.
Now you see how many factors can disturb the work of an advertising screen if we don't provide proper protection. Either way, it's worth a try as the opportunity to get your offer outside your building gives a lot of possibilities and will bring real results that are difficult to achieve using technology different than digital signage.
If you aren't sure of your choice or it's difficult to predict the final result, please contact us. We'll be happy to help you choose the best solution.